Celebrating Women's History Month: What Has Changed for Women Since 1987?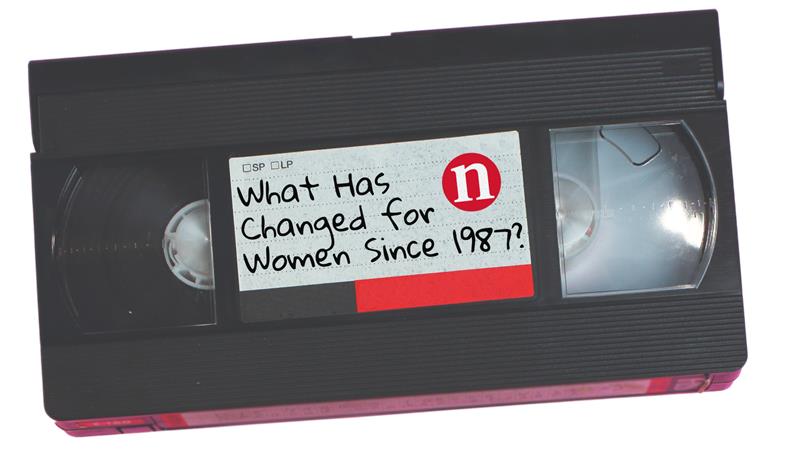 Reading Time:
3
minutes
Celebrating Women's History Month: What Has Changed for Women Since 1987?
The year was 1987. The New York Giants won Super Bowl XXI, and Phil Simms was the first to say, "I'm going to Disney World!" Everyone was listening to Whitney Houston, Bon Jovi, and The Bangles' "Walk Like an Egyptian." The cult classic "Dirty Dancing" premiered, along with the number one movie of the year, "Three Men and a Baby," and the beloved television series "Full House." Some of the biggest news stories were the rescue of baby Jessica, Black Monday, and President Ronald Reagan delivering the infamous line, "Mr. Gorbachev, tear down this wall!" A new home cost roughly $92,000, a gallon of gas was 89 cents, and a dozen eggs were 65 cents.
Did you know 1987 was also a notable year for women? In 1987, U.S. Congress declared March Women's History Month, seven years after President Carter issued the first presidential proclamation for National Women's History Week. His message stated:
"From the first settlers who came to our shores, from the first American Indian families who befriended them, men and women have worked together to build this nation. Too often the women were unsung and sometimes their contributions went unnoticed. But the achievements, leadership, courage, strength and love of the women who built America was as vital as that of the men whose names we know so well.
"As Dr. Gerda Lerner has noted, 'Women's history is women's right — an essential, indispensable heritage from which we can draw pride, comfort, courage, and long-range vision.'
"I urge libraries, schools, and community organizations to focus their observances on the leaders who struggled for equality — Susan B. Anthony, Sojourner Truth, Lucy Stone, Lucretia Mott, Elizabeth Cady Stanton, Harriet Tubman, and Alice Paul.
"Understanding the true history of our country will help us to comprehend the need for full equality under the law for all our people."
Since 1987, there have been many notable female firsts:
1987 – Aretha Franklin becomes the first woman inducted into the Rock and Roll Hall of Fame.
1992 – In Planned Parenthood v. Casey, the Supreme Court reaffirms the validity of a woman's right to abortion under Roe v. Wade. The case successfully challenges Pennsylvania's 1982 Abortion Control Act, which sought to reinstate restrictions previously ruled unconstitutional.
1993 – Janet Reno is sworn in as the first female attorney general of the United States.
1996 – In United States v. Virginia, the Supreme Court rules that the all-male Virginia Military Institute has to admit women in order to continue to receive public funding. It holds that creating a separate, all-female school will not suffice.
1997 – Madeleine Albright is sworn in as the first female U.S. secretary of state.
1999 – Carly Fiorina, a trailblazing executive, becomes the first woman to head a Fortune 50 company.
2003 – In Nevada Department of Human Resources v. Hibbs, the Supreme Court rules that states can be sued in federal court for violations of the Family and Medical Leave Act.
2007 – Nancy Pelosi is sworn in as the first female Speaker of the House.
2009 – President Obama signs the Lilly Ledbetter Fair Pay Act, which allows victims of pay discrimination to file a complaint with the government against their employer within 180 days of their last paycheck.
2010 – Kathryn Bigelow becomes the first woman to win an Oscar for Best Director.
2013 – In January of 2013, Defense Secretary Leon Panetta announces that the ban on women serving in combat roles would be lifted. The move reverses the 1994 rule that prohibited women from serving in combat.
2016 – Hillary Clinton, after winning a majority of Democratic state primaries, becomes the first female presidential candidate for a major political party.
2021 – Kamala Harris is sworn in as the first female vice president of the United States, as well as the first vice president of Black and Indian heritage.
2023 – The first all-female U.S. Navy flyover takes place before Super Bowl LVII.
It's inspiring to think of the progress that has been made since 1987 in terms of the rights of women and their representation in society. But there have also been moments of regression that have us thinking: What hasn't changed in the last 35 years? What work still needs to be done to build a gender-equal world, free of bias, stereotypes, and discrimination?
Currently, while women's employment has improved, women are still paid less than men, and that pay gap worsens with age. And women are five to eight times more likely than men to have their employment affected by caregiver responsibilities.
We are proud to celebrate Women's History Month at Nexus Direct and recognize women's incredible contributions to our country. Our team is full of strong, talented women who continue to lead the way and inspire others. We hope this month serves as a reminder that women everywhere can achieve greatness and make a positive impact in the world. Here's to celebrating the women who have come before us and to the ones who will come after us!
Sources:
https://www.internationalwomensday.com/
https://www.americanprogress.org/article/fact-sheet-the-state-of-women-in-the-labor-market-in-2023/
https://www.infoplease.com/history/womens-history/timeline-us-womens-rights-1789-present
https://www.history.com/topics/womens-history/famous-firsts-in-womens-history
https://www.cbssports.com/nfl/news/2023-super-bowl-first-all-female-u-s-navy-flyover-takes-place-before-super-bowl-57-heres-a-look/
https://nationalwomenshistoryalliance.org/womens-history-month/womens-history-month-history/
https://popculturemadness.com/PCM/1987-history-trivia-fun-facts/
https://www.thepeoplehistory.com/1987.html