A Bridge Towards Fundraising Nirvana?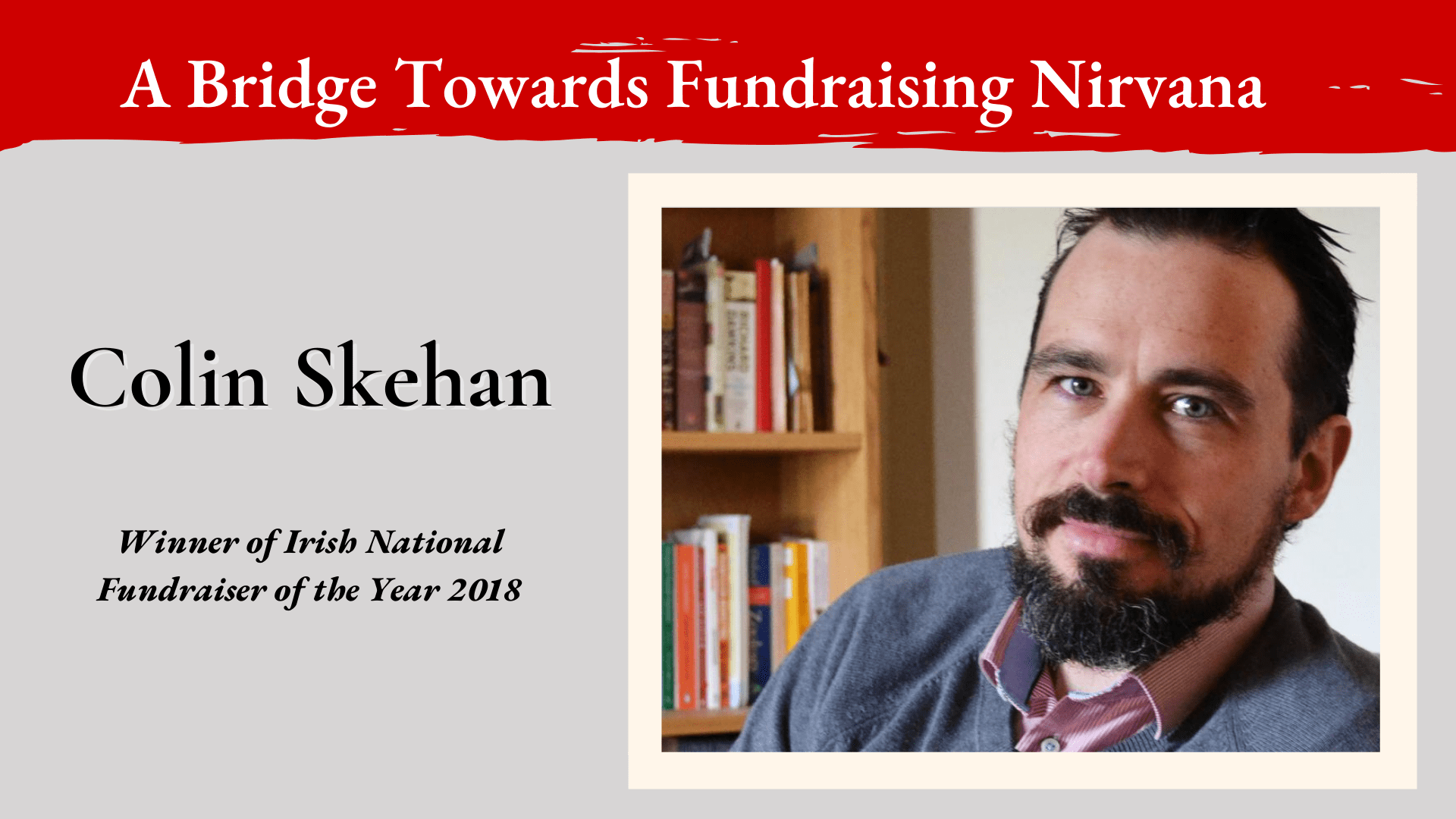 Reading Time:
10
minutes
Americans, and serendipity, have blessed my career. Extraordinary mentors from the U.S. graciously gave me great advice when I was trying to come to terms with what fundraising really is. Wonderful, smart, ass-kicking, result-smashing women who worked in Ireland and pointed the way to a trove of learning.
As a result, much of the insight that helped me make my initial, faltering steps on the right path in fundraising came from the American tradition. From a land of huge data sets and massive social movements. I learned so much from my American mentors and the sources they recommended, including the works of Mal Warwick, Jeff Brooks, Tom Ahern, Roger Craver and others.
But I'd never made it to a U.S. fundraising conference. So, when Suzanne Cole Nowers, the formidable principal of Nexus Direct, invited me to virtually attend one as their guest, I was flattered.
When I saw the agenda for the 2021 'Bridge to Integrated Marketing and Fundraising' Conference, I was delighted.
Session after session was packed with excellent speakers, science-based theory, smart hypotheses, practical tests and meaningful data.
The keynote, 'Love Your Donors: The Phil Psych Way,' set the tone, presented by Dr. Jen Shang (the world's first philanthropic psychologist!) and Professor Adrian Sargeant. As serious academics, they've contributed so much to fundraising knowledge through their books and papers. They also designed the certificate and diploma in fundraising from which I learned so much.  So, I'm always interested in what they have to say.
Full disclosure, I'm already a Phil Psych convert. In fact, I'm currently doing the certificate at Sargeant and Shang's Institute for Sustainable Philanthropy (I literally need to finish this blog and get to my homework right now!).
This session was an inspirational call to arms love.
The aim of Phil Psych is to help improve donors' psychological well-being through giving. Connect with donors' values and identities and you can help them grow in love for themselves and mankind. The possibilities of Phil Psych are so exciting to me. Because this isn't woolly or speculative, or vague. It's based on sound, established psychological theory, converted into hugely practical ideas, and tested rigorously with dramatic results.
The amazing, beautiful, life-affirming findings?
Donors will feel better. No surprise there. But they'll also feel better about giving and growing closer to your org. And when you give your donors every last chance to express who they are, and to grow their competence in love? You'll see a huge lift in giving. We're talking DOUBLING and TRIPLING of income in numerous tests. You'll have better retention, more income to deliver your mission and happier donors. Awesome.
A key part of your job as a fundraiser then?
Coming up with well-informed, creative ways to make people feel great while doing good.
Nice work if you can get it.
Next for me was a case study from CARE USA titled, 'We're Talking Bold Change – The Shift from Premium to Non-Premium Programs,' presented by Angie Moore from CARE USA, Ashley Moore from Newport One and Alexandra Contney from Forward PMX.
The concept of direct mail premiums reflects academic insight too. Reciprocity was the first of six drivers of persuasion outlined in Professor Robert Cialdini's seminal book 'Influence.' It's the idea that if you do a small favour for me, I'll feel compelled to return the favour to you – and usually in a much larger way.
But I've long heard rumblings about the backfire effects of an over-reliance on premium-recruited donors. Because donors recruited via premium direct mail packs (stuffed with gifts like tote bags and wrapping paper) tend to give in response to the gift rather than the mission. Many donors become hooked on premiums, responding only to these gifts thereafter.
Reciprocity based on the material, rather than on shared values.
An over-reliance on premiums had pushed CARE USA into a crisis. Issues of cost to recruit vs lifetime value had thrown the existence of their entire direct mail acquisition programme into doubt. With admirable self-analysis and long-term thinking, and quite a bit of apparent scientific rigour, CARE USA conducted a longitudinal multivariate test to see if they could right the ship.
They tested various premium acquisition packs vs non-premium packs with a focus on mission-driven messaging. Subsequent donor behaviour was tracked for each. As expected, cold response rates decreased. But so did expenditure. Average gift and donor lifetime value improved dramatically, more than making up for the drop in response.
Inspired more by the mission, donors gave more and stuck around longer. More evidence that catering to donor values and identity is a smart play in the long run.
A note of caution: don't write off premiums entirely. Premium acquisition will tend to improve response and reduce average gift. And it will become problematic if it's all you do. But buried within the new recruits you'll find some sticky, mission-driven donors. Some orgs make premium acquisition work as an important part of a balanced portfolio, but it's a careful balancing act that requires serious resources to analyse and differentiate your donors.  So always look at your own numbers and data the way CARE USA did, if you can.
I've also found that with the right premium it's possible to achieve the best of both worlds. The ideal is one that's relatively inexpensive, highly engaging and resonates strongly with your mission. Part premium, part engagement device, really. There's a wonderful example of this from Ireland, devised by Denisa Casement and Lisa Sargent (who happen to be those mentors of mine I mentioned earlier) when they were building the fundraising programme at Irish homeless charity Merchants Quay Ireland (MQI).
Before I tell you more, you'll need to know that in Ireland we're all obsessed with a cup of tea. If you're familiar with Mrs Doyle, the pathologically cha-fixated housekeeper from Father Ted, you'll understand. (If not, do yourself a favour and check out Father Ted, the best Irish comedy series of all time.) Suffice it to say, Mrs Doyle's mania for a brew is not far off Irish reality.
And in MQI's homeless shelter, a hot cup of tea is the first thing to warm shivering hands when someone comes in from the cold. The perfect direct mail premium (you might see where this is going)?
A teabag.
Picture an Irish nana receiving a letter with a mysterious bulge in the middle. Curiously, she opens it and finds a teabag and an invitation to enjoy a hot cup of tea while reading about the work she can make possible. To literally feel the warming comfort a freezing man or woman can enjoy because of her. Genius! The teabag has featured in MQI's acquisition control packs for close to a decade.
The most successful of CARE USA's non-premium cold packs also included a MUAC, a band that is used to measure the circumference of a child's arm to assess the impact of malnutrition. This engagement device is a staple of INGO fundraising and is another powerful, mission-driven, visual and tactile way to bring the donor to the scene and get those empathy-driving mirror neurons firing.
Day one of Bridge closed with a session by Bernard Ross. Bernard is a data scientist and consultant whose work is drawn from the nexus of three key behavioural science disciplines: evolutionary psychology, neuroscience, and behavioural economics. He has authored several books applying social science concepts to fundraising challenges. When seeing him present, you also get the benefit of a lovely Scottish lilt.
These behavioural science frameworks provide many useful lenses for understanding donor behaviour and for developing meaningful hypotheses to test in our mass mails, emails and digital ads.
In his session, Bernard made a point that really landed with me.
Much social science is based on tests involving just 100 students in Ivy league universities such as Harvard or Yale. (Sample groups that some social scientists have designated, 'WEIRD', which is an acronym for 'Western, educated, industrialized, rich and democratic'. Quite small and somewhat skewed, to say the least.) On the other hand, one test described by Ross featured 1.2 million unaddressed door drops divided into six segments.
Conducted by Christian Aid and Ogilvy in the U.K., each of the six hypotheses in this 1.2 million-piece test was based on a known heuristic, i.e., the shortcuts our brains use to help us make decisions. So, this was a randomised control trial with an enormous sample group. And that's a key point for me. We can learn so much from the social sciences and tests like these. But more than that, those of us with large enough donor files and budgets can consistently and materially add to the disciplines of fundraising and behavioural science. That is, if we can properly understand the relevant concepts and apply the necessary rigour in testing.
I won't disclose all the fascinating proprietary tests and results that Bernard shared. They belong to him and his contributors. But results were meaningful, and at times remarkable. (I did order Bernard Ross's book 'Change for Good' on Kindle after the session, so you might want to consider that if you're burning for some answers).
I will reflect on one key evolutionary psychology finding he discussed, though. Images matter in fundraising. The image of an individual looking into the camera tends to be the most effective for engagement and results. So far so obvious, I'm sure.
In terms of evolutionary psychology, Bernard explained, this is linked to the fact that we constantly seek patterns. It helped us survive on the savannah, as hunters and hunted, and the eyes are key here. Are those the eyes of a predator or prey? Friend or foe? Crucial questions that helped us survive and evolve for millennia.
The eyes are also the way we connect with others. Looking into the (non-threatening) eyes of others – especially children and babies, puppies and kittens – produces oxytocin, the chemical of empathy and a desire to help.
Ross shared an eye-tracking heatmap of a web page. It featured a baby alongside some copy and a call to action. The reddest of reds seared a circle over the baby's eyes. All else was a distant second.
The eyes also showed up in another session, as direct mail and copywriting legend Tom Gaffny shared some creative tests. The key message from Gaffny: 'A strong photo can lift results dramatically. But it's got to be the right photo.' He shared three direct mail treatments, each featuring a photo of the same mother and young daughter. The clear winner: the only image where the young girl looks straight into the viewer's eyes.
But the insights shared by Ross went one step further. What if the subject isn't looking at the viewer? What if the subject is looking right where we want the viewer to look? Such as at our call to action?
So simple. So good. So based in sound theory.
Ross's group, the Decision Lab, tested this insight with remarkable results. (If you're still burning for some answers, I'll share a link to the Decision Lab's website at the end of this post.)
So, the little things matter a lot. For big, evolutionary, psychological reasons. And it really pays to get a handle on these reasons.
Francesco Ambrogetti put a bow on the behavioural science motif late in day two. I really enjoyed Francesco's book 'Emotion Raising,' which also looks at what we can learn from the behavioural sciences and apply to fundraising, so I was excited to see what he had to share.
The central thesis of his session: if we can get donors hooked on a feeling (which is the title of his newest book), retention goes through the roof. In his session, Francesco explained the 'Peak-End Rule,' which comes from academic studies on how impressions become encoded as memories. We tend to remember the first time we did something (e.g., donating to your org!) the last encounter and any peaks, good or bad, in between. So, first impressions matter, as do last impressions and standing out for the right reasons in between.
You want your donors' experiences with you to be encoded into their memory. And for the right reasons. That's why your donor thank yous and welcomes must be emotional, distinctive and gratifying.  This isn't about receipts or any rote, business as usual stuff. It's making them feel something. It's about surprise and delight. The fun stuff. If we can get this right, retention goes through the roof, and Francesco has the tests to show it.
In life, we remember the emotional peaks, such as weddings and graduations, and lows like bereavement and divorce. In fundraising, we can celebrate huge, life-changing wins with donors. Giving them the credit they deserve in making them happen.
Francesco counsels that moving from pure, emotion-driven appeals to genuine, human dialogue and real conversations helps people encode peak memories. If a donor has a bad experience and is kind and engaged enough to complain rather than just disconnect, that's an enormous opportunity. You can turn a trough into a peak by showing a genuine passion to hear them out, understand them as a person, and learn from it. So make space for complaints, respond quickly and well, and invite feedback in every interaction.
The timeless lesson here for me? It's not just about what you do. It's always about how you do it. Go the extra mile. Be as human, as genuine and as memorable as possible. And watch your donor satisfaction and retention grow.
There's one last data point from the conference I'd like to share before I go (trust me, you'll want to hear this one).
Brady Josephson, from the always impressively data-driven agency NextAfter, shared stats from a 20-org analysis of the performance of online-only, offline-only, and multichannel donors. You may have heard that multi-channel donors perform better. This is for rather more prosaic, but still crucial, reasons than the psychological reasons above. It's because when you can reach someone by more channels, your message is more likely to get through. And when people are more comfortable donating by more than one channel (e.g., via direct mail and online) their response goes up. Pretty intuitive really.
But how much more valuable is that multichannel donor?
The data showed that a multichannel donor typically gives more than THREE TIMES as much per annum as an online-only donor. Multichannel donors retain at 31 percentage points (!) higher than online-only donors. That. Is. Huge. So, get those postal addresses, telephone numbers, and emails. And use them to make your donors feel great and give them every chance to change the world.
But why does all this matter really? Donor recruitment. Donor retention. Multichannel marketing.
Because one of the most ethical, sensible, farsighted things you can do for your organisation and your mission is to figure out how to develop a broad-based community of supporters who share your values.
Yes, this improves income. It's just good business to diversify your support base and income streams. And when you have a large donor file, and the know-how to look after them, your income and projections become much more predictable. And your finance department will thank you!
But it's much more than that.
Because when you have that broad base, no large funder can set your agenda. When you have that community, and the unrestricted income that comes with it? It gives you the strength and resources to live your values and have the highest standards in governance and everything you do. But to get that broad and growing base you must have a culture that includes love and respect for donors, as well as the people or mission you exist to serve. Not elevating donors above your mission. But giving them the gratitude they deserve for sharing their strength – and your values.
And when you do all of these beautiful things, the effect compounds and builds. Your donor retention will increase. Your long-term income will grow dramatically. And more lives will be better for it. The lives of donors and the communities you serve.
My key, inspiring, passion-fuelling, career-motivating summary from the Bridge Conference?
Get your donors hooked on a feeling (not a premium). Put more love and humanity into your fundraising and you can retain more donors and raise more money to:
Deliver more care and opportunity to people around the world
Shield more puppies and kittens from cruelty
Inspire and develop more communities through the arts and education
And have more fun doing it!
And we've got the evidence to show it.
P.S. At Bridge Conference, I had the pleasure of getting to know Suzanne and her team at Nexus Direct a bit better. They're such a great crew, with a lovely dynamic and they really know their stuff. And how's this for an awesome tagline? 'We build relationships. One story at a time.' Love it. If you're in the market for an agency to help you with your multichannel challenges, get in touch with them at
P.P.S. Here's that Decision Lab link I promised earlier. Enjoy! https://decisionscience.org.uk/
P.P.P.S. I never could have found the right path in fundraising without people graciously answering my questions and pointing me in the right direction. All in return for nothing more than a chat and a coffee (and an occasional lunch). So, if I can ever do likewise for you, I will be delighted to (no lunch necessary!). My email is if you'd like to get in touch.